rss
PARAMHANS SWAMI MAHESHWARANANDA BIOGRAPHY
Biography of His Holiness Vishwaguru Mahamandaleshwar Paramhans Sri Swami Maheshwarananda of Panchayati Maha Nirvani Akhara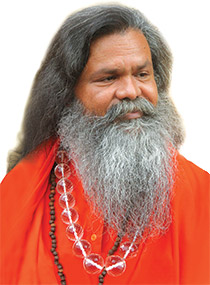 "My mission is to help
people understand themselves,
to understand others,
to love and protect all living beings,
and ultimately to realise God".
His Holiness Vishwaguru Mahamandaleshwar Paramhans Sri Swami Maheshwarananda Puri of Panchayati Maha Nirvani Akhara, affectionately known as Swamiji, is the disciple and successor of Hindu Dharmsamrat Paramhans Sri Swami Madhavananda.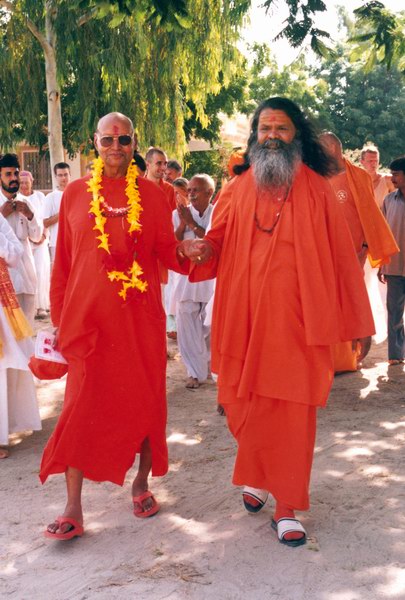 Since 1970 he has been living and working in Europe. Through his longlasting activities in the West, Swamiji has become familiar with the way of life and the many problems people face in the modern world, with psycho-somatic consequences of a detrimental lifestyle, stress, fears and mental illness. He has developed a comprehensive master system called "Yoga in Daily Life", based on original yoga tradition and specially directed to the situation and needs of modern civilization. The system can be lived and practised regardless of age, social status, nationality or denomination.
The main points of Swamiji's teachings are:
Physical, mental, social and spiritual health
Respect for life
Tolerance for all religions, cultures and nationalities
Global peace
Protection of human rights and values
Protection of the environment and preservation of nature
The realization of these fundamental principles of life leading man to spiritual development, Self-Realization and Realization of God.
Swamiji's selfless service, his tireless care and love for all living beings, his lectures and satsangs, are a source of inspiration for thousands of people from all over the world, who are striving for spiritual realization.
In recognition of his humanitarian and spiritual merits Swamiji has received much thanks, and many awards and honouring titles from all over the world.
On 10th April, 1998, Paramhans Swami Maheshwaranandaji was inaugurated by the World Religious Parliament as "Sarva­bhaum Sanatan Dharma Jagadguru".
At the Maha Kumbha Mela in Haridwar, India (13 April, 1998) he was appointed to Mahamandaleshwar of Maha Nirvani Akhara.
In 2001 on the occasion of the Maha Kumbha Mela in Prayagraj (Allahabad), Swamiji was awarded with the highest spiritual title of Vishwaguru (Master of the Universe) in the presence of His Holiness Jagadguru Sri Shankaracharya Sri Swami Narendranandaji Sarasvati, by the Vidvat Samaj.
Acknowledgements Throughout the World
Especially during the communist era, Swamiji's spiritual and humanitarian work provided great moral support to the people of the Eastern European countries of Czechoslovakia, Hungary and Yugoslavia. Due to his distinguished charitable, humanitarian, religious and environmental work as well as his untiring efforts for tolerance and world peace, Swamiji has been acknowledged by social, medical, religious and political dignitaries in dmany ifferent parts of the world.
2009, Meeting with the Chairman of the Presidency of Bosnia & Hercegovina
Worldwide Inter-religious Dialogues and Meetings
Recognising the urgent need to promote and develop awareness of world peace, Paramhans Swami Maheshwarananda has initiated worldwide Inter-religious Dialogues and World Peace Prayers with representatives of world religions and public figures, and takes an active part in international congresses and conferences.
2009, Convocation of Hindu Leaders, Melbourne, Australia
World Peace Prayers
Worldwide International and Inter-religious World Peace Prayers promote and develop awareness of world peace. The first prayer took place in the Croatian city of Umag in September 2001, and afterwards in numerous cities in Austria, Spain, Germany, Slovenia, Hungary, the Czech Republic, Slovakia, United Kingdom, the USA, Canada, Australia, New Zealand and India. Thousands and thousands of people were lighting candles which were floating on the sea surfaces, lakes and rivers of their countries with wishes and prayers for peace among all cultures, nations and religions.
2004, World Peace Prayer, Ljubljana, Slovenia
Planting of Peace Trees
The initiative of planting Peace Trees around the globe is aimed to remind people on their unity with nature and environment. Swamiji has stated that Peace Trees will stand forever as a symbol for peace among religions, cultures and nations and all who are seeking comfort and relief shall find peace and harmony under their branches.
2009, Planting of Peace Tree at the City Park in Vienna, Austria
The Peace Tree planting ceremony was led by renowned environmentalist and Ambassador for Peace, His Holiness Mahamandaleshwar Paramhans Swami Maheshwarananda, and Vienna City Councillor for the Environment, Ulli Sima, with invited local officials and community leaders,
SEARCH YOGAINDAILYLIFE.ORG
SPIRITUAL LINEAGE OF H.H.