English Language Products
INFORMATION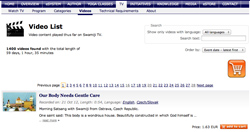 Please see webcast product list here:
http://www.swamiji.tv/video/list
All links lead to the website of "Om Shiva Esoterik, Vienna, Austria" our partner for sales of download products.
Newest products you always find on the top.
You can add one or many products on your "Shopping Card" on "Om Shiva Esoterik" before you check out.
Here you see English language products. More products will be added during next time.
Products in German language you find here:
German Language Products
WE LIKE YOUR FEEDBACK