Lila Amrit - The Divine Life of Sri Mahaprabhuji
Paramhans Swami Madhavananda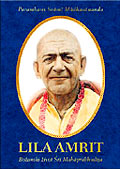 A biography of Bhagwan Sri Dip Narayan Mahaprabhuji (1828-1963), the story of a life filled with divine bliss and miraculous occurrences. Written by Sri Mahaprabhuji's spiritual successor from his own experience together with the evidence of contemporaries, forms a true-to-life and inspiring portrait for the reader. Sri Mahaprabhuji's life was a divine blessing and liberation for all who came in contact with him. "Love each living being - at least as much as yourself" - this proverb is the essence of Sri Mahaprabhuji's message to mankind.
Online Edition: LilaAmrit.org

hardcover, 15.5 x 21.5 cm, 340 pages
The book is available in the following languages:
ISBN 3-85052-104-4 German, Ibera - European University Press
ISBN 953-96619-0-0 Croatian, Open Studio
ISBN 963-85552-1-9 Hungarian, Diwali, Budapest
Also available in English, Spanish, French, Slovenian, Serbian, Czech, Slovak, Hindi.
Russian in preparation.
eBook versions are available