Vishwaguru Mahamandaleshwar Paramhans Sri Swami Maheshwarananda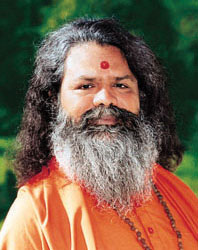 His Holiness Vishwaguru Mahamandaleshwar Paramhans Sri Swami Maheshwarananda Puri of Panchayati Maha Nirvani Akhara, affectionately known as Swamiji, is the disciple and successor of Hindu Dharmsamrat Paramhans Sri Swami Madhavananda.
Vishwaguruji lived with Holy Guruji from childhood. He attained self-realization at an early age, and then ventured to spread the wisdom and light of his spiritual lineage throughout the world. Since 1972 he lives and works in Europe. Through his longlasting activities in the West Vishwaguruji became familiar with the way of life and the many problems people face in the modern world, with psycho-somatic consequences of a wrong way of life, stress, fear for life and mental illness. He developed a comprehensive master system called "Yoga in Daily Life", based on original yoga tradition and specially directed to the situation and needs of modern civilization. The system can be lived and practiced independently of age, social status, nationality, and denomination.