Christmas Events in Vienna and Salzburg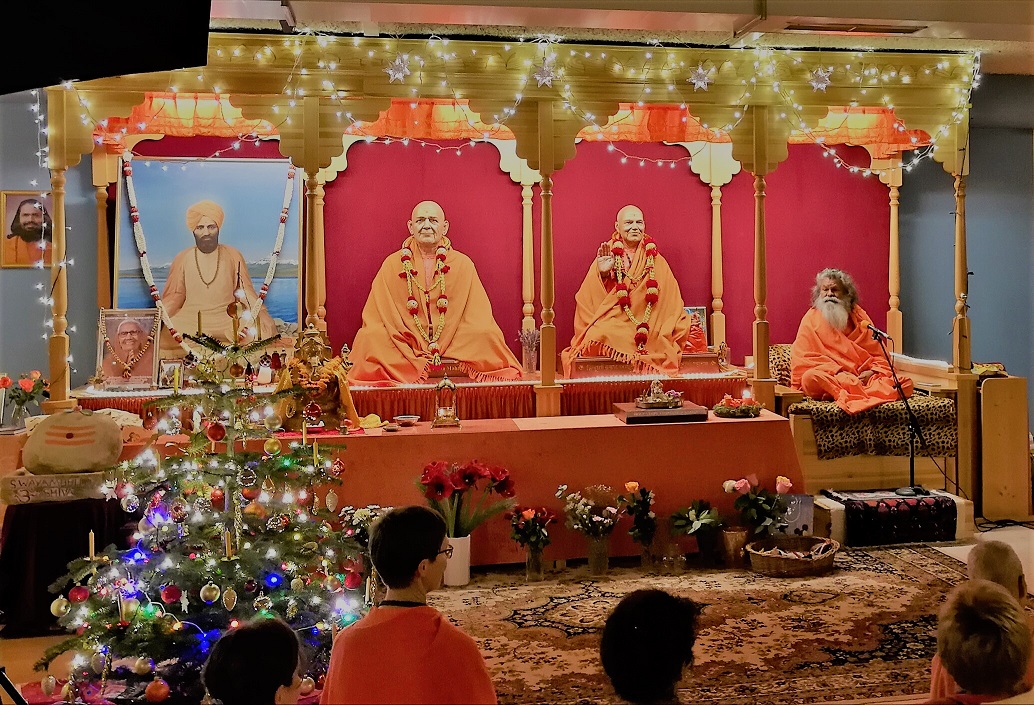 Christmas Satsang in Guruji Ashram in Vienna
Yoga in Daily Life practitioners, teachers and disciples had the opportunity to celebrate Christmas with Vishwaguruji in Vienna at a special Christmas Satsang on Sunday 10 December 2017. Christmas songs were sung, and vice-president of the Vienna YIDL Society, Sagarpuri, thanked Vishwaguruji and all yoga teachers, caretakers and helpers in the ashram. The children were given their traditional "Christmas bag" with fruit and sweet treats, and everyone enjoyed delicious Christmas biscuits, which many had graciously brought with them. It was a beautiful and warm "get-together" with old and new friends and Vishwaguruji.
Weekend Seminar and Christmas Satsang in Salzburg, 15-17 December 2017
The last weekend before Christmas and before Vishwaguruji's winter journey to India and his World Peace Tour 2018, a Weekend Seminar took place in the festively decorated town of Salzburg in Austria.
In the public lecture on Friday, Vishwaguruji returned to the topic of 'stress management' and again introduced in practice the techniques of relaxation that he had recently explained in Vép. See the previous article on this site: www.yogaindailylife.org
During the Weekend Seminar, Vishwaguruji continued with the discourse about stress and how to get rid of it.
A short summary of Vishwaguruji's teachings in Satsang :
The real root of every stress is fear; the fear of losing something - comfort, wealth, reputation, love, a possession, a person, etc. The remedy for stress is consciousness, awareness. If we are aware that everything in life is transient and we cannot hold on to anything, then much wíthin us relativizes and relaxes. A great fear of every human being - the greatest fear of all - is the fear of death; of dying, of pain, disease and sickness. The reality we have to face is that one day we will have to leave this world empty-handed. The only remedy for this fear, which also causes us a deep, often unconscious stress and anxiety, is mantra and meditation. The true love is the love of God. Any other love will someday disappoint us and cause us pain because a separation is inevitable. But love for God always stays pure and beautiful. We call God by many names: Brahma, Vishnu, Jesus, Buddha, Allah, etc. But It is always the same God we turn to because there is only One God - and He has no name. He is absolute being, true love, universal knowledge and eternal light. This is our way and our goal - "Go to the light, always turn towards the light!"
---
---
The Saturday evening Satsang in Salzburg was dedicated to Christmas and the special highlight was a performance of arias from Mozart, Lehar and Puccini, presented by an opera singer and piano accompanist from Salzburg Opera.
For more (in German language): www.yogaimtaeglichenleben.at