His Holiness Swamiji visits Croatia, 2005
Numerous meetings and activities, along with an extremely warm reception and keen media interest, marked the start of a five-day tour of His Holiness Mahamandaleshwar Paramhans Swami Maheshwarananda to Croatia. The tour culminated on Sunday, October 9, when He was the main guest of honour at the Sri Swami Madhavananda World Peace Summit and the Message of Mahatma Gandhi, held in the capital of Croatia, Zagreb.

On Thursday, October 6, Swamiji visited the Croatian Parliament, where he was received by its Vice President, Mrs. Djurdja Adlesic. Mrs. Adlesic welcomed His Holiness with warm words of respect, "I feel exceptionally happy and honoured that we have the opportunity to welcome you to the Croatian Parliament. We sincerely recognise your work, your endeavours and efforts for promotion of world peace, tolerance and understanding amongst people." And she emphasised, "we are especially happy that you have chosen Croatia for the venue of such an important event (the World Peace Summit), because this speaks for the openness of our nation and our culture towards these type of initiatives". His Holiness Swamiji informed the Vice President about numerous activities of "Yoga In Daily Life" around the world, and also mentioned a topic of special interest to Mrs. Adlesic, a teacher by profession. He explained the situation regarding the three-year programme of Yoga for School Teachers, which is being very successfully implemented in Croatia. "Now I am preparing a special programme for students, with impact on memory, concentration and relaxation. Unfortunately, young people of today are very aggressive and yoga can be of great help in the alleviation of this condition", said Swamiji.
Another distinguished member of the Parliament, Mr. Zlatko Kramaric, was also present at the reception and he too expressed great satisfaction with the meeting. Though both Mrs. Adlesic and Mr. Kramaric have not yet been in contact with yoga, they said that they will seriously think about devoting 15 minutes daily for yoga-practices. They appreciated that it would be very useful for them, as well as for their colleague politicians, due to its reported results against stress.
In the afternoon, His Holiness Swamiji was a guest on Croatian National Television, where he participated in one of the most popular talk shows – "Life Live" ("Zivot uzivo") and in the evening, thousands of people enjoyed His lecture about Svadhishthan Chakra, held in the beautiful atmosphere of the "Globus" Congress Hall in Zagreb.

A very busy Friday, October 7, began with breakfast with the Croatian President, Mr. Stjepan Mesic. His Holiness Swamiji introduced the "Rainwater Harvesting" project, taking place in India, for which the President showed great interest. It was at a similar meeting about a year ago, when His Holiness Swamiji first spoke with President Mesic about the possibility of organising the World Peace Summit in Croatia.
Enroute from Zagreb to Cakovec, where an International Yoga Seminar was to take place, His Holiness Swamiji visited the Governor of Varazdin County, Mr. Radimir Cacic, with whom he had already met in India, during President Mesic's visit to Jadan Ashram in November 2002. "I very much respect this kind of peace initiative and the people who initiate them", said Mr. Cacic in his welcoming speech, "and I am certain that the World Peace Summit, whose initiator and guest of honour you are, will make a strong influence on Croatian people in general, and will bring about many positive changes". The host then led His Holiness Swamiji to the sightseeing tour of Varazdin, one of the oldest Croatian cities. Swamiji's visit to the city concluded with participation on a talk show at the local television station.

On Saturday, October 8, in the heart of Medjimurje County in the city of Cakovec, Croatia, His Holiness Swamiji met with the County Governor, Mr. Josip Posavec, and a representative of the city authorities, Mr. Slobodan Vejnovic. Local authorities stated that they were happy to host and greet all international participants of the Yoga Seminar in Cakovec and they readily embraced Swamiji's idea to plant a peace tree in the city. Swamiji's endeavours towards world peace thus left a material trace in Cakovec – a tree for peace was planted in the park, situated in the city centre, and it took place exactly on Croatian Independence Day. "We have planted this Tree of Peace in remembrance of all who fought for Croatian independence, but also in remembrance of all fighters for world peace, tolerance, respect of human rights and protection of environment", said Swamiji. During the ceremony, dignitaries in attendance supported the initiative that people of good will should gather at the peace tree each year and offer a prayer for peace.
---
Swamiji in Croatia, 2005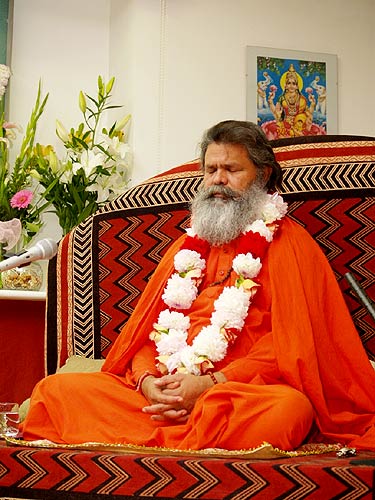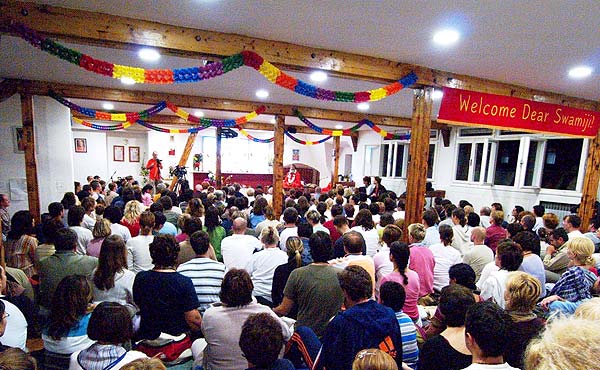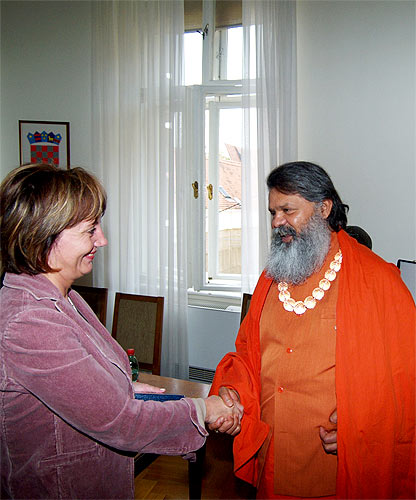 ---
---
---