Swami Gajanand – YIDL Tour in Ukraine 16-29 April 2015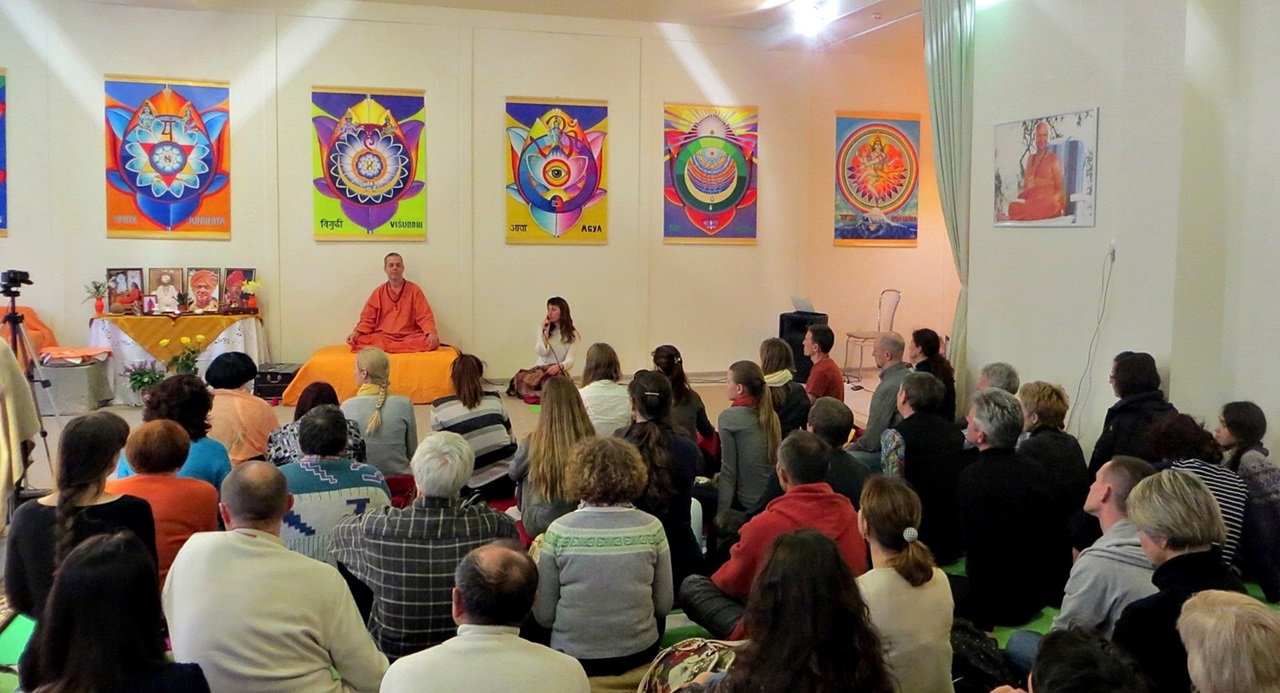 Swami Gajanand was invited by the YIDL Centers in Ukraine to visit the bhaktas and hold public lectures, workshops and satsangs in Cherkassy and Kiev.
He was warmly welcomed on 16 April by bhaktas in Cherkassy and gave a public lecture there on 'Yoga and health', which was attended by more than 120 participants. He then led a Weekend Workshop in the YIDL Center of Cherkassy with the topics: 'Stress management through Yoga in Daily Life' and 'Yoga for back pain'. And in the following week there were evening lectures about 'The Secret of OM' and other subjects, as well as a class for YIDL teachers.
The local television station sent a video team to the Cherkassy YIDL Center and recorded an interview with Swamiji Gajanand, as well as a tour of the center and a demonstration of some yoga exercises.
In Kiev there was a public program about 'Yoga as a holistic system' with 70 participants. Swami Gajanand also taught a session of beneficial exercises for the five pranas and led Satsang in the new dome venue of Shivapuri from Kiev.
Swami Gajanand's visit and his many programs gave much inspiration and encouragement to the YIDL groups, who are affected by the current war and economic problems. Participants whole-heartedly contributed to Vishwaguruji's recently established conservation project Jiva Jantu by gifting original indigenous plant seeds for cultivating in Strilky Ashram, and despite of their own difficult situation they also sent donations for the Nepal Earthquake Relief Appeal.
---