Swamiji's World Peace Tour 2004 (photos and reports)
Photos & reports
On 24th of February 2004, Mahamandaleshwar Paramhans Swami Maheshwaranandaji had started his World Peace Tour 2004. Swamiji will travel virtually around the world and will visit various continents and countries to spread the message of peace and tolerance among nations, religions and races. Almost each year new destinations are added to his schedule, this year these are South Africa and some countries of the former Soviet Union.
Here you will find some highlights of Swamiji's tour and also some of his Vakyas.


---
USA/New York
---
USA/Washington
---
Canada/Vancouver

On 2nd of March Swamiji had a beautiful lecture in Vancouver. Here spring has already begun. Trees are starting to blossom and are becoming green again. On the next day, the 3rd of March afternoon Swamiji will make the biggest "step" of his journey, crossing the Pacific ocean. Bhaktas in New Zealand and Australia are waiting eagerly for Swamiji to come. The flight from Vancouver to Wellington/New Zealand will take more than 22 hours...

Swamiji is thinking on all bhaktas around the world very much. He always sends love and blessings, also through the "Guruvakya" which I am fortunate to send you.

Radha
---
New Zealand/Wellington
---
Australia/Sydney

A special celebration of Hindu festival called Holi, organised by Sydney's Indian Community, was held at Darling Harbour in Sydney. It was attended by over five thousand people. Swamiji was invited to speak and Swami Gajanand sang a bhajan, praising the glory of India (Dhanya Dhanya Bharata Bhumi, written by Holy Guruji), which opened the hearts of Indian as well as Australian visitors.

Swamiji's big press conference was well attended by many representatives from the Australian Media and on 13th of March an article about Swamiji including colour photos was published on page 13 of one of Sydney's two major newspapers, "The Daily Telegraph" (see a copy below), which is read by approximately 1.5 million people!

Swamiji's message of "Say No to Plastic" has finally made an impact on the Randwick Council in Sydney. They have agreed to support the use of cotton bags instead of plastic ones and to join a campaign to "help make Randwick Australia'a first plastic bag free city".

During the weekend (March 14) there was a Yoga workshop titled "Sustaining Vibrant Health: Physical, Mental & Spiritual" which featured Asanas, Pranayama, Mudras, Bandhas, Yoga Nidra and of course Swamiji's illuminating Satsang. During the workshop Swamiji said of the Madrid tragedy, "This is very sad, it's like September 11 all over again, and it happened on March 11". Swamiji was asked, "What can we do to help?" and he said, "We must pray".

Swamiji therefore stopped his programs to initiate a multi-faith prayer for world peace in Sydney on Monday, March 15th.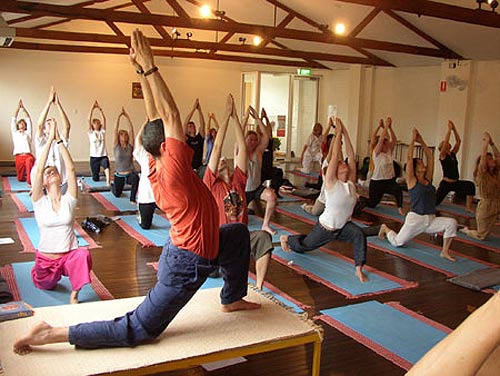 See the Australian YIDL web page more details
---
Australia/Sydney Yoga Forum

In the national "Yoga in Daily Life" centre a special forum was organised on March 12th 2004, with the main objective to inform and reawaken Sydney's yoga practicioners to the origins of Yoga and the ultimate purpose of practising Yoga. Due to the commercialisation of Yoga in the Western culture, it often receives a superficial interpretation, and is rarely depicted as a spiritual discipline intended for bringing human consciousness to God-consciousness. Several speakers attended the forum and each of them shared their wisdom of Yoga's essence from their own experience, with a view to inspire other teachers and students to become solid in their own spirituality through the practice of Yoga. The speeches were followed by an open-forum discussion, where contributions and questions were put from attending participants.
---
Australia/Brisbane
---
Australia/Adelaide
On March 25th 2004, His Holiness Vishwaguru Mahamandaleshwar Paramhans Swami Maheshwarananda Ji was invited to Parliament House by the Premier of South Australia, His Excellency Mr. Mike Rann. Water conservation and the environment was a topic of much discussion between His Holiness Swamiji and Premier Rann. Both share a common concern for methods of water conservation and rainwater harvesting, since India and Australia experience similar drought conditions [read more...].

Swamiji was also invited to speak at a multi-faith dialogue in Adelaide, with spiritual leaders from Christianity, Islam & Buddhism. The dialogue was chaired by Swamiji's close friend from the Catholic Church, Monsignor David Cappo. The delegates of different religions were: Paramhans Swami Maheshwarananda (Yoga & Hinduism), Monsignor David Cappo (Catholic Church), Dr. Omar Lum (Islam), and Venerable Gloria van der Schyf (Buddhism).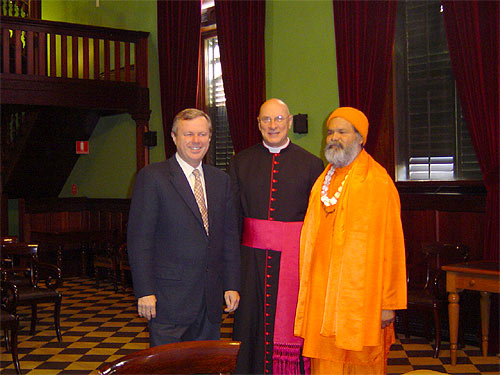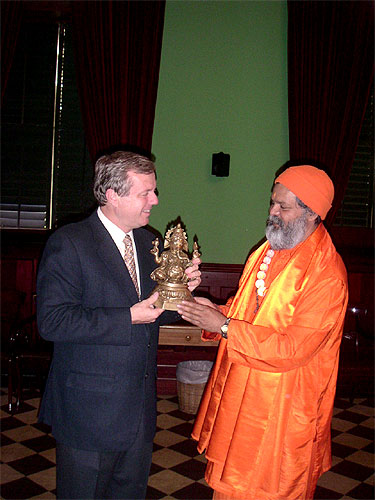 ---