Opening of the new YIDL centre in Vienna Austria
Opening celebrations
During the weekend of 19-20 November 2005, exactly one year after signing the contract for the premises, joyful celebrations took place for the opening of the new Ashram in Vienna: GURUJI ASHRAM. This newest ashram is named after His Holiness Hindu Dharmsamrat Paramhans Sri Swami Madhavanandaji – respectfully known as Holy Guruji.

On Saturday, Nov. 19, there was an "Open Day" for newly interested people. In four practice rooms and in the big hall of 350 m², at least 400 people took the opportunity to learn more about "Yoga In Daily Life" and experience how it functions practically.

The official part of the opening took place in the evening. Guests of honour were: His Excellency Shri Ghanshyam Tiwari, Minister of Education, Justice and Law from Rajasthan; His Excellency Dr. Sheelkant Sharma, Ambassador of India; Brigadier Josef Weingast, former commercial attache in Bratislava; Univ. Prof. Dr. Karin Preisendanz, head of the South Asian Institute of the Vienna University; Dr. Bimal Kundu, head of the Hindu Temple in Vienna; and Dr. Amrit Bhatia, former head of the Vienna Hindu Temple.

After a performance of Indian Bharatnatyam dance by Bhakti Devi, H. E. Minister Tiwari celebrated the opening Puja (ceremony) and lit the eternal light on the altar. Then yoga teachers from Vienna gave an overview of the techniques of the "Yoga In Daily Life" system: Asanas, Pranayamas, Hatha Yoga Kriyas and special applications for conditions such as backache and high blood-pressure, with some practical demonstrations. Kriyanand, one of Swamiji's earliest disciples, gave an outline of Swamiji's nearly 35 years of work in Vienna and how Swamiji has built up the Ashrams in Schikanedergasse (Mahaprabhuji's Ashram) and Enenkelstraße (which unfortunately will be closed by the end of the year). Then Swamiji spoke about the meaning and benefits of Yoga In Daily Life and with his address the new Ashram and Yoga Centre was opened.

Sunday, Nov. 20, was "the day" for all the Karma Yogis who have supported and worked hard for the reconstruction of the ashram. About 500 Bhaktas and more than 100 Karma Yogis came from neighbouring and distant countries and from all over Austria, to celebrate together with Swamiji the successful opening of Guruji's Ashram. All Karma Yogis received Swamiji's blessing and a symbolic present. The absolute highlight was that after the Puja, again performed by H. E. Minister Tiwari, His Holiness Swamiji offered Holy Guruji's orange and gold shawl, as a vivid symbol of Guruji's presence in this ashram. This beautiful shawl was worn by Guruji for a long time, including when he last visited Vienna.

Recalling the divine example of his master in his Satsang speech, His Holiness Swamiji pointed out the importance of Seva – selfless service, giving help. That even God himself is doing Seva when he incarnates in this world, and that the sense and meaning of human life can be fulfilled only through Seva.

All Vienna disciples would like to thank once more all Karma Yogis from the many different countries, for their immense selfless support and hard work in reconstructing and creating Guruji's ashram in Vienna. They are verily in the heart of this ashram forever, and this ashram will be their lifelong spiritual home.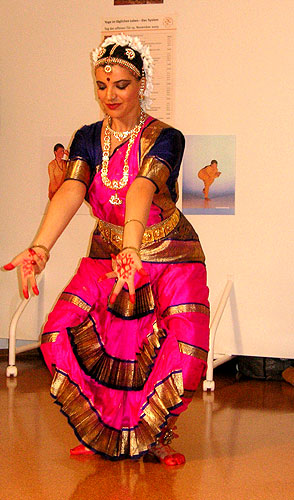 ---