Swamiji's Diwali message 2010
Diwali, a festival of Light, is one of the four main festivals of India and it is also the auspicious day of the holy incarnation of our belowed Lord Bhagwan Sri Deep Narayan Mahaprabhuji.
Please see H.H. Vishwaguruji's Diwali 2010 greetings: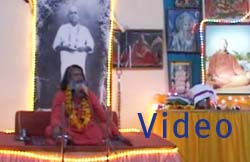 Read [Vishwaguruji's 2010 message] on this occasion (498.3 KB PDF).
You may also like to watch this video from 2008:
You may also listen to this satsang:
http://www.yogaindailylife.org/author/guruvakyas/divali-satsang-part-1
http://www.yogaindailylife.org/author/guruvakyas/divali-satsang-part-2
Or you may watch those youtube videos:
http://www.youtube.com/watch?v=HNsQF6SYFh0&feature=related