Sri Swami Madhavananda World Peace Council - Forthcoming events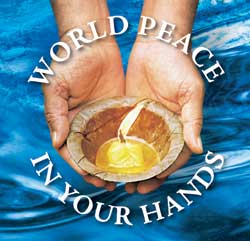 "WE STAND FOR PEACE"
On the occasion of the UN International Peace Day
21 September, 2010, 12.00 p.m.
Representatives and members of the Yoga in Daily Life organizations throughout the world will keep one minute of silence for World Peace at 12.00 p.m. wherever they will be at that time.

"WORLD PEACE PRAYER and LIGHTING of CANDLES"
In order to promote and develop awareness of world peace, Yoga in Daily Life organizations will organize World Peace Prayers and lighting of candles at 7.30 p.m. by each Peace Tree that was planted by Swamiji and YIDL. The manifestations will be organized together with local authorities and representatives of different religions.


Planting of WORLD PEACE TREES will be organized:
On 2nd September, 2010 in London, United Kingdom
On 6th September, 2010 in Birmingham, United Kingdom
On 8th September, 2010 in Edinburgh, United Kingdom
On 2nd October, 2010 in Umag, Croatia
"DAY OF NON-VIOLENCE FOR WORLD PEACE"
On the occasion of the UN International Day of Non-Violence in honor of Mahatma Gandhiji
2nd October, 2010, Umag, Croatia

CONFERENCE ON YOUTH AND ETHICAL EDUCATION
4th December, 2010 in Prague, Czech Republic
Organized by the Sri Swami Madhavananda World Peace Council

RAKSHA BANDHAN FESTIVAL
"International Day of Women's Protection".
Initiative of the Sri Swami Madhavananda World Peace Council, a petition signed throughout the world which will be directed to the United Nations in order to declare Raksha Bandhan as an international day of protection for women.
Deadline for collecting the signatures – 31st  December 2010.
All petitions should be sent to the to This email address is being protected from spambots. You need JavaScript enabled to view it.
Please visit the Website of Sri Swami Madhavananda World Peace Council: http://www.worldpeacecouncil.net