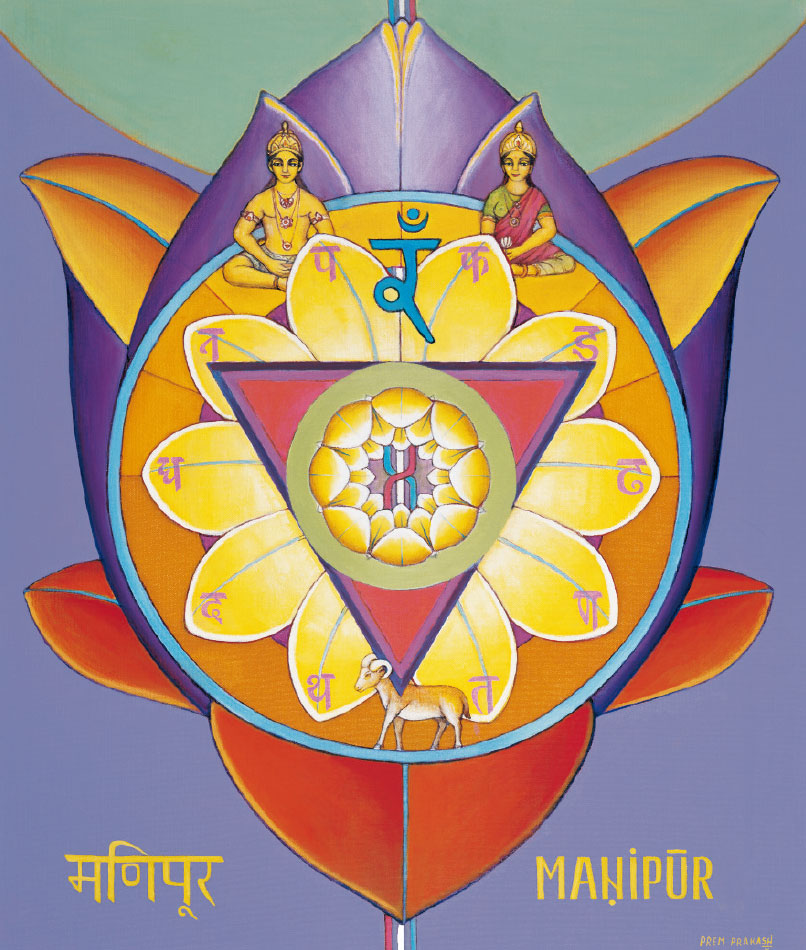 mani = jewel
pura = place, city
The Manipura Chakra is situated behind the navel. Its Mantra is RAM. When our consciousness has reached the Manipura Chakra we have overcome the negative aspects of Svadhishthana. The Manipura Chakra contains many precious jewels such as the qualities of clarity, self-confidence, bliss, self-assurance, knowledge, wisdom and the ability to make correct decisions.
The colour of the Manipura Chakra is yellow. The animal designated to represent Manipura is the Ram. The corresponding element is Fire, therefore it is also known as the Fire or Sun Centre. The fire element manifests in the body as heat in the Solar Plexus. The Manipura Chakra is the centre of vitality. It controls our energy balance to strengthen and consolidate our health. This Chakra has an effect like a magnet, attracting Prana from the Cosmos.
As the seat of digestive fire, this Chakra regulates the function of the Pancreas and digestive organs. Blockages in this centre can cause many health problems such as digestive disorders, circulatory disease, diabetes and fluctuations in blood pressure. However, a strong and active Manipura Chakra greatly supports good health and assists us in overcoming many illnesses. When the energy of this Chakra flows freely, the effect is like that of a power station, constantly supplying vitality - bestowing balance and strength.
In the symbolic picture of the Manipura Chakra there is a Lotus with ten petals. These represent the ten Pranas, the vital forces, which control and nourish all functions of the human body. An additional symbol of the Manipura is that of a triangle with its tip pointing downward. This indicates the spreading of energy, growth and development. Activation of the Manipura Chakra frees one from negative energies and purifies and strengthens one's vitality.
The Divinities of this Chakra are Vishnu and Lakshmi. Lord Vishnu is symbolic of the evolving human consciousness that no longer contains any animal characteristic. Goddess Lakshmi represents material and spiritual prosperity, which blossom and prosper with God's blessing.
More about Exercises and Meditations for Manipura Chakra read here.